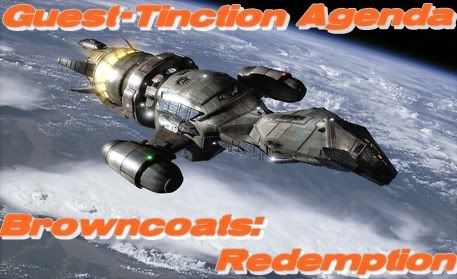 This episode, the gang has Michael C. Dougherty and Andrew Louis Marnik on to discuss their work on the Firefly fan-film,
Browncoats: Redemption
.
In honor of this special occasion, we and the Browncoats: Redemption crew are running a contest this week. Simply send your answers to the following challenge to
fanholespodcast@gmail.com
. If your answers are correct, you will be entered in for a chance to win a free copy of Browncoats: Redemption, graciously offered by the BC crew!
CHALLENGE: Name all villains in the Firefly universe that have appeared in more than one episode or comic book. We're looking for all baddies with more than one appearance in-canon.
The winner will be chosen one week from now.
Browncoats: Redemption official site
Fanholes Episode # 18: Guest-Tinction Agenda Part 4, Featuring Michael C. Dougherty and Andrew Marnik